Health Benefits of Swimming and Swimming Lessons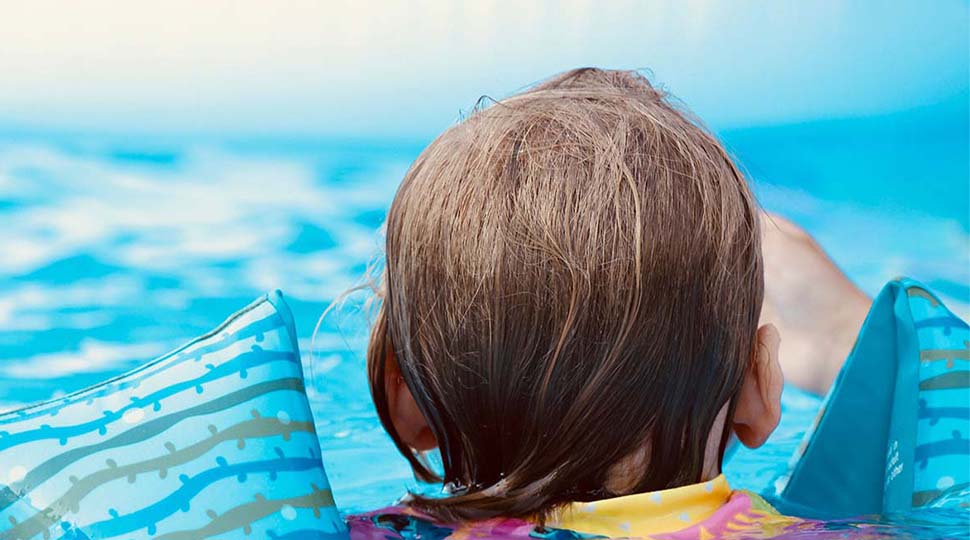 Measure your heartbeat when you exercise, it's important to maintain a healthy heart rate.

Healthy Quote
There are many health benefits of swimming for kids and adults. Do you still remember the first time you are in the water?
I bet it was either enjoyable and you love it till you can't forget or it was too frightening that you can't forget till today. On a hot sunny day in Singapore, swimming is a great way to keep your children active maintain the "coolness."
During the "chillier" months when rain is everywhere, families now can still go to the indoor pool that are built-in Bedok, Tampines and Pasir Ris public swimming complex for swimming.
Despite being one of the most destressing and fun activities, it can be dangerous if proper guidelines are not given, and negligence sneaks in.
Many researches show that children age 1 to 4 have drowning rates percentage of higher than 85% in home swimming pools and anywhere with water.
The health benefits of swimming are wide and when it comes to water safety, it is good to have the children learn earlier, like baby swimming lessons which have gain popularity in recent years.
Why Early Swimming Lessons?
We can help our children live better in myriad ways. And one way parents can do so is by enrolling the children for swimming lessons. Swimming lessons will help equip children with the skills needed to prevent accidental injuries and help to promote crucial water safety.
Starting swimming lessons early in life will give them first-hand experience to become a stronger swimmer in the future.
The swimming lessons will guide them on what are the safety rules to follow, what actions are to be taken if they ever accidentally fell into water or find themselves too deep in the water.
Today, I will share with you the many reasons swimming lessons can benefit you other than safety reasons.
Benefits of Swimming
Swimming provides fitness all year round
It gets the children active and provide physical activities and make sure their hearts start pumping the way it should. It is a low impact exercise, you do not get many injuries with swimming as it put up less stress on the joints as compared to all the other forms of exercise and physical play.
Swimming pools in Singapore are now mostly sheltered or covered, children get to participate in swimming or have their swimming lessons done in rainy and warmer months as they can now be done indoor.
Improves physical health
Cultivate the right mindset in your children to get active leads to a lesser chance of obesity in childhood and later years. Any activities that can help your heart pumping and blood rushing are great in cardiovascular health as well as the building of endurance.
Swimming not only helps to increase endurance, but it also expands your lungs, strength, balance, flexibility, and postures.
Boosts Emotional Health
Swimming helps to boosts mood and many studies are done on it. Due to the low-intensity of the activities itself. Many people find that swimming is both relaxing and comforting to the mind and body; a double boost to your overall mood.
Cardio Exercise
Swimming makes your heart stronger, pump faster, reduces blood pressure and improves the aerobic capacity. It is endurance fit, it supplements your stamina training with running in joint-damage freeways. Incorporate this regime into your daily training and stay healthy!
Weight Management
Swimming aid in weight management, it works very well when done with running simultaneously. Swimming for an hour can burn up to 600 calories depending on how vigorous your training is.
Social Well-Beings
Swimming lessons and sessions provides people of all ages the chance to meet new friends with similar abilities. They will be able to destress, interact, and develop new friendships along the way.
Swimming lessons, unlike most classrooms and learning environments, usually include games to enhance the learning process. This bond the students and make them feel comfortable and happy in and around the pool.
Incorporate Swimming In Daily Life
Just like any other exercise, try to do it at least twice a week and control your diet to effectively rip the benefits of its weight control.
Keep to your regime, be disciplined and swimming will be one extra booster, control your weight and helps you look good!
Swimming can be done individually when your children and you are looking for a solitude relaxation or can be done in a group that allows your children to make new friends, enjoy the conversation and relax at the same time.
Children get to learn valuable social skills such as playing games fair, work together, and participate in games and activities in the water that are fun and challenging.
Children will feel better when they are learning swimming. When the kids learn and reach a new milestone in swimming, they will feel more confident and help to boost the self-confidence and the self-esteem of the children.
This boost will help to supplement the other areas of the lives later, keep them more motivated and fare better in other areas of their lives.
Swimming is more than one activity that helps your children enjoy during hotter days in Singapore. They are learning important lessons about water safety, at the same time they are having fun and help them meet the essential physical activities they need.
Any health benefits of swimming you feel swimming provided in general other than the one pointed in this article?
Do you have any other reasons you love for swimming that is beneficial for your kids and you love? Do comment below and we will try to extend the article with more in-depth pointers.