How to become a certified swimming instructors in Singapore
There are a few associations which offer courses to certify swimming instructors in Singapore. They are the Sport Singapore (formerly known as the Singapore Sports Council), Swimming Teachers' Association (STA) and AUSTSWIM.
Please see the following table for more details and the differences between these certification.
| | | |
| --- | --- | --- |
| Sports Singapore | Swimming Teachers' Association | AUSTSWIM |
| NROC | STA | AUSTSWIM |
Teaching Venue
| | | | |
| --- | --- | --- | --- |
| Public Pools | Yes | No | No |
| Condo & Private Pools | Yes | Yes | Yes |
Requirements
NROC (Sport Singapore)
SSTA
AUSTSWIM
Minimum Age
18 years old as on 1st Jan of the year
17 years old
16 years old (Accreditation at 17)
Freestyle
Yes
Yes
Yes
Breaststroke
Yes
Yes
Yes
Backstroke
Yes
Yes
Yes
Butterfly
Yes
–
–
Lifesaving 1,2,3
Yes
(3 Years from Exam)
Yes
Optional
Bronze Medallion
Optional
Optional
Optional
First Aid or CPR
Yes
Yes
Yes
Basic Sports Science (BSS)
Yes
–
–
SG-Coach Theory Lv1
Yes
–
–
SG-Coach Technical Lv1
Yes
–
–
Course Fee
Basic Sports Science
S$353.10 Theory LV 1
Admin S$53.50
Course S$321.00 Technical LV 1
Skill Test S$25.00
Course S$375.00
STA Member S$550
Non Member S$580
Approximately S$570
Additional Info
Click Here
Click Here
Click Here
Upon completion of course, you are required to fulfill a certain number of attachment hours with associated swim school or swimming instructor.
Where Can You Start?
Check out the diagram below and find out where to start.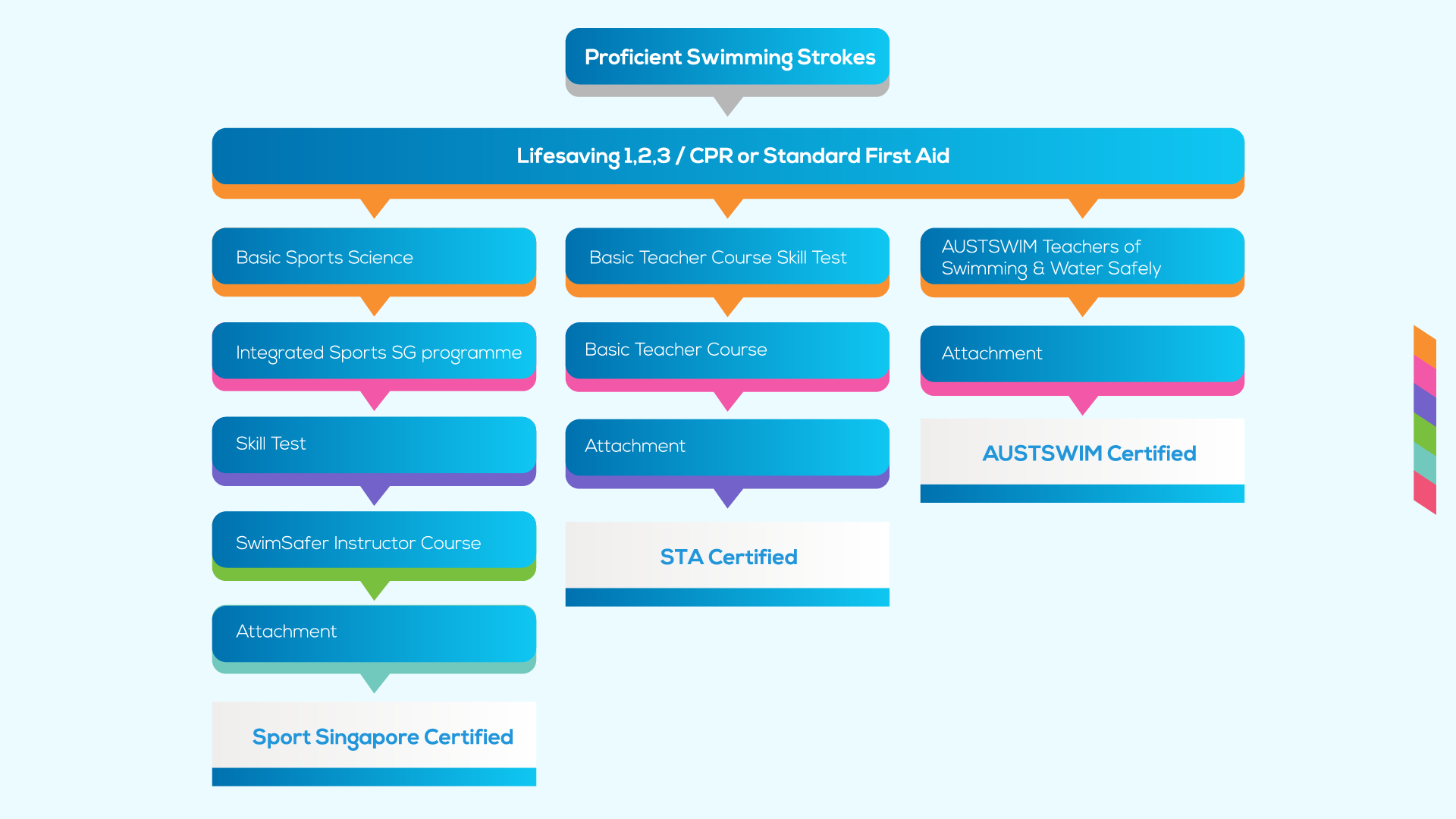 If you cannot swim proficiently yet, come for our adult & lady swimming lessons to furnish up your skill.
If you have no lifesaving knowledge and certifications, come for our lifesaving course. During the course, CPR & First aid course will be introduce.
If you are preparing to teach at public pool, make sure you have completed your Basic Sports Science, SG-Coach Theory Level 1, and SG-Coach Technical Level 1.
Upon completion of swimming instructor course, do approach us for attachment.
Upon completion of attachment and attained proper teaching certification, join our team as a certified swimming instructor!