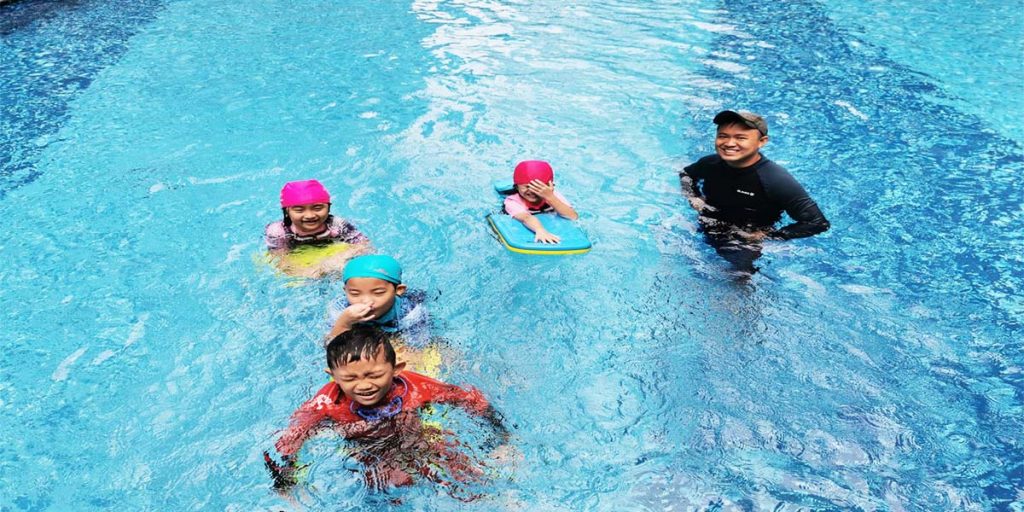 10 Tips Your Child's Swimming Instructor Wants You To Know
Learning to swim is an exciting adventure that provides your child with a highly desired life skill (and it's fun to boot!). When it comes to learning that life skill, there are wonderful and caring swim school instructors out there.
Swim school instructors love teaching kids to learn to swim! While their swimming lessons students are your children, there are a couple of things swim school instructors want you to know.
Here are 10 things your child's swim school instructor wants you to know:
Children learn differently and at their own pace. We love seeing children take to the water, well, like fish! Some jump right in and some need a little more time to feel comfortable. Building the strength and confidence for swimming lessons takes time. Know that your child is doing their best and it will look different than anyone else's best.

Fear is contagious. Try not to show any apprehension you have regarding the water. Often parents, especially those who are not swimmers themselves, transmit their own fears to their children. Don't let your words or body language discourage your child's eagerness to learn. Swimming is fun and when done with an instructor who cares, it can be a life skill that will continually be built upon and enjoyed for years.

Just say no to arm floats and nose plugs. Wearing "floaties" can give kids a false sense of their abilities in the water and it's best to avoid them in the initial learning stages. Nose plugs prevent the process of "breathing" bubbles into the water which is an essential first step in swim lessons.

It's best to watch rather than interact during the swimming lesson; parents should not attempt to engage their children or instructors during lessons. The swimming instructor and child must focus solely on the session to get the most out of the experience and for safety.

Children learn through play. We deliberately incorporate lots of fun and play in our swim lessons. Early childhood experts agree that play is essential in a child's physical and cognitive development. When learning is fun, retention improves, anxiety lessens, and progress accelerates. Everything your child does in class has a purposeful objective.  So even though it may sometimes look like the class is "just" diving for sinkies, or "just" singing and splashing on the island; real learning is happening.

Trust is extremely important, so encourage your child to develop that with their instructor. Know that when the swim school instructor spends lots of time talking to the child and/or holding him, this is to build the trust necessary for the child to progress. Trust isn't built in a few lessons, it's built over time with care and patience. In order for children to learn and thrive, they need to have a trusting relationship with their swim instructor. So don't be surprised if learning seems to be slow in the beginning. What is really happening is that the teacher is building a positive relationship before asking your child to do things that are outside of their comfort zone. Our number one teaching principle is to "love them first and then, teach them to swim." Some children come to swim lessons with some anxieties and fear about the water, others come ready to dive right in. In either case, it's important that they feel they are in a safe, nurturing environment where they will be cared for. When there is a strong teacher-student bond there will be strong physical progress.

Don't force your youngster into the water. Some children need to observe before they are confident enough to join in the lessons, and this is okay. Building trust, especially when it comes to swimming, is essential for little ones to be able to relax and learn the skills they're being challenged with. We all have off days too! We encourage patience when it comes to progress. It's normal to have a lesson where your child is tired, uncooperative, or upset. We feel it's very important to read and listen to each child's needs. Ignoring a child's emotional readiness will erode trust and interfere with progress. Our teachers know when to challenge your child and when to back off and read their readiness. It may not seem that they are accomplishing much on an "off" day, but learning is still taking place.

Keep your child home when they're ill. If you are unsure, err on the safe side and discuss "makeup lessons with swim school customer service. The earlier you can notify the swim school, the better. We will miss having them in class, but we love it when they are at their swimming lessons feeling their best.

Reinforce the skills your child learns during swimming lessons at home. The more you have them enjoying time in the water, the more comfortable and confident they will become, and the more success they will have. If you're not sure what skills you're comfortable teaching at home, just ask – we've got plenty of ideas!

Commit to being on time and attending regularly. It's important to always listen to and support the swim school instructor. Swimming lessons are a commitment that is important to keep, and we know it isn't always easy with the busier schedules of today.
We know getting your kids in swimming lessons is a commitment by both the parent and the child. Creating a supporting, loving, and trusting atmosphere in which your child can learn and thrive, is important to you and to us. If you have any questions about kids swimming lessons or how awesome our swim school instructors are, contact us today!